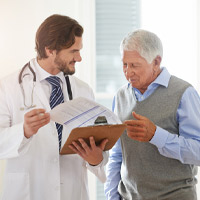 The 2020 Medicare annual enrollment period is October 15 through December 7. As your trusted healthcare partner, Atlantic Health System is happy help you find a plan that's right for you. Together, Atlantic Health System and Aetna Medicare offer a total approach to health and wellness. If you or someone you know has questions about Medicare options, please call 1-833-238-8126 or visit our resources page >

Alzheimer's Disease Programs and Screenings
Education and prevention can keep you and your loved ones healthy. We invite you to take advantage of the programs, support groups and screenings available. Adults 65 and older who are looking to stay well with age may benefit from events labeled "New Vitality."

Alzheimer's Disease Caregivers Support Group
Those caring for a loved one with Alzheimer's disease can receive mutual education and encouragement.
Second Wednesday of every month, 7:00 to 8:30pm
Atlantic Health Pavilion, 2nd Floor Community Outreach Conference Room
242 West Parkway, Pompton Plains, NJ
For more information, please call 973-831-5367.
Alzheimer's Disease Articles