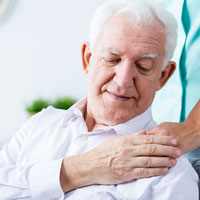 From time to time, everyone has a moment where they've forgotten their car keys or lost their train of thought. So, how do you know if your memory loss is a normal part of aging or the start of a neurodegenerative condition, like Alzheimer's disease? Atlantic Neuroscience Institute has put together a check list of questions, which can help you decide if an evaluation by a specialist may be necessary. Our Memory and Cognitive Disorders Program offers state-of-the-art brain imaging, including computer programs that can compare a patient's brain to a database of age-matched normal subjects to pinpoint abnormalities. Learn more about all our services >

Alzheimer's Disease Programs and Screenings
Education and prevention can keep you and your loved ones healthy. We invite you to take advantage of the programs, support groups and screenings available.

Alzheimer's Disease Caregivers Support Group
Those caring for a loved one with Alzheimer's disease can receive mutual education and encouragement.
Second Wednesday of every month, 7:00 to 8:30pm
First Reformed Church, 529 Newark Pompton Turnpike, Pompton Plains, NJ
For more information, please call 973-831-5367.
Alzheimer's Disease Articles