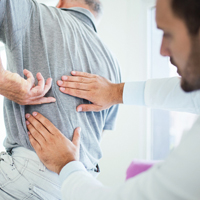 Whether the result of injury, arthritis or other condition, pain can have a direct impact on our ability to function. Find out how well you're managing pain and to what degree it limits your daily activities by taking a short health assessment. In doing so, you'll learn more about what specifically causes pain, the risk of recurrence and recommendations to reduce and prevent it. Take the quiz now >
Arthritis Programs and Screenings
Education and prevention can keep you and your loved ones healthy. We invite you to take advantage of the programs, support groups and screenings available.
Arthritis Support Group
Arthritis patients can receive mutual education and encouragement.
Fourth Tuesday of every month; 10:30 to 11:30am
Atlantic Health Pavilion, 242 West Parkway, Pompton Plains, NJ
This group meets from March through December.
For more information, please call 973-831-5367.
Arthritis Articles