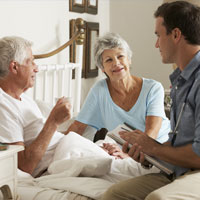 If you're 65 or older and aren't sure if you can afford visiting nurse or rehabilitation services in your home, you may have options. Medicare will pay for short-term, intermittent skilled care from a certified home care agency, such as Atlantic Home Care. To qualify, you must have a physician order, be home-bound and have a condition requiring the skills of a nurse, physical therapist, occupational therapist or speech therapist. Medicare may also cover medical social work services, which can help you obtain community resources, a nutritionist or certified home health aide. Atlantic Home Care will verify your insurance coverage for you and will make the referral process as easy as possible. Call us at 973-379-8472 today.
Stroke Programs and Screenings
Education and prevention can keep you and your loved ones healthy. We invite you to take advantage of the programs, support groups and screenings available. Adults 65 and older who are looking to stay well with age may benefit from events labeled "New Vitality."
Stroke Support Group
Stroke survivors and their families can meet for mutual encouragement and have their stroke-related questions answered.
Second Monday of every month, Noon to 1:00pm
Chilton Medical Center, Cafeteria Conference Room
For more information, please call 973-831-5385.
Stroke Articles