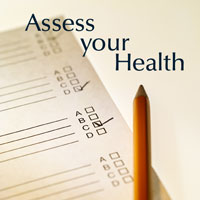 In sports, they sometimes say the best defense is a good offense. Maintaining a healthy body is no different. When you know your risk for certain conditions, like stroke, you're better able to take proactive steps to help prevent it. This can mean quitting smoking, exercising more often or getting a genetic screening test to learn your family health history. Take our assessment test now to discover what factors influence stroke and lifestyle changes within your control to reduce your risk.
Stroke Programs and Screenings
Education and prevention can keep you and your loved ones healthy. We invite you to take advantage of the programs, support groups and screenings available. Adults 65 and older who are looking to stay well with age may benefit from events labeled "New Vitality."
Stroke Support Group
Stroke survivors and their families can meet for mutual encouragement and have their stroke-related questions answered.
Second Monday of every month, Noon to 1:00pm
Chilton Medical Center, Cafeteria Conference Room
For more information, please call 973-831-5385.
Stroke Articles