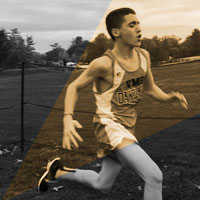 Like any other high school freshman, Dominic L. had big plans, but they were almost derailed when a gym accident left him with a crushed and partially severed finger. His father rushed him to Chilton Medical Center's Children's Center, where an orthopedic hand surgeon quickly operated to prevent a permanent impairment. Dominic made a complete recovery and was able to resume his drumming lessons and track team workouts without a hitch.
Read more of his story >
Parenting Programs and Screenings
Education and prevention can keep you and your loved ones healthy. We invite you to take advantage of the programs, support groups and screenings available.
Childbirth Preparation
Expectant mothers and their partners can learn about the stages of childbirth, the role of the partner, coping and breathing techniques, and the postpartum period. A tour of our Mother Baby Center is included. This class should be completed approximately four weeks before the baby's due date.

One-Day Intensive Class
Saturdays, September 8 or October 9; 9:00am to 3:00pm
Fee: $200 per couple
Three-Week Session
Wednesdays, October 3, 17 and 24; 6:00 to 9:30pm


Wednesdays, November 13 and 20; 6:00 to 9:30pm




Fee: $160 per couple
For more information and to register, please call 973-831-5333 or sign up online >
Pre/Postnatal Healthy Living
Learn how to stay healthy during and after pregnancy through a variety of techniques, including prenatal yoga, infant massage, essential oils, nutrition, strollercize and more.
Saturday, October 13 and November 10; 10:00 to 11:00am
Chilton Medical Center, 97 West Parkway, Pompton Plains, NJ
For more information and to register, please call 973-831-5333 or sign up online >

Breastfeeding
Learn all about breastfeeding, including health benefits for mom and baby, proper positioning, nutrition and avoiding common problems.
Fee: $50
Thursday, October 25; 7:00 to 9:30pm
Chilton Medical Center, 97 West Parkway, Pompton Plains, NJ
For more information and to register, please call 973-831-5333 or sign up online >
Baby Basics
Expectant mothers and their partners can learn how to bathe, diaper and burp a baby, as well as how to care for the cord. Tips from the "Happiest Baby on the Block" on soothing fussy infants and helping them sleep longer will also be provided. Grandparents may attend for an additional cost.
Fee: $60
Thursday, October 11 and November 8; 7:00 to 9:30pm
Chilton Medical Center, 97 West Parkway, Pompton Plains, NJ
For more information and to register, please call 973-831-5333 or sign up online >
Perinatal Bereavement Ceremony

Families who have experienced miscarriage, stillbirth or the loss of an infant are invited to a ceremony, which will include art therapy and a walk through our chapel's labyrinth to the remembrance garden. Refreshments will be served.
Sunday, October 14; 2:00 to 4:00pm
Chilton Medical Center, Board Room
For more information and to register, please call 973-831-5333 or sign up online >
Breastfeeding Support Group
Join other moms in an informal and welcoming group that supports breastfeeding mothers and their children. Lactation consultations will also be on hand to answer questions.
Mondays, 11:00am to Noon
Chilton Medical Center, 97 West Parkway, Pompton Plains, NJ
For more information and to register, please call 973-831-5333 or sign up online >

Maternity Center Tours
Expecting mothers and one guest 18 years of age or older are welcome to take a tour of Chilton Medical Center's Maternity Center.
First Wednesday of every month, 7:00 to 7:30pm
Chilton Medical Center, 97 West Parkway, Pompton Plains, NJ
For more information and to register, please call 973-831-5333 or sign up online >

Second Trimester Maternity Center Tours
Expecting mothers and one guest 18 years of age or older are welcome to take a tour of Chilton Medical Center's Maternity Center. Participants can also meet other expectant parents, learn about the second half of pregnancy and take part in a Q&A with a registered nurse.
Third Saturday of every month; 11:00am to 12:15pm
Chilton Medical Center, 97 West Parkway, Pompton Plains, NJ
For more information and to register, please call 973-831-5333 or sign up online >

Parenting Articles