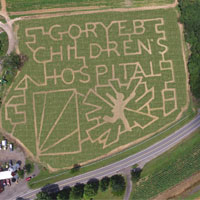 The fall festivities at Ort Farms have included a corn maze for more than 10 years, but after Superstorm Sandy, the attraction became a means of recognizing local nonprofit organizations. This year, the Long Valley-based business chose to honor Goryeb Children's Hospital, using our name and logo to form the elaborate twists and turns of the eight-acre maze. Additional family-friendly activities at Ort Farms include pumpkin picking, pony rides and food tents. Partial proceeds from the corn maze will benefit Goryeb. View pricing and hours of operation >
Parenting Programs and Screenings
Education and prevention can keep you and your loved ones healthy. We invite you to take advantage of the programs, support groups and screenings available.

Breastfeeding
Learn all about breastfeeding, including health benefits for mom and baby, proper positioning, nutrition and avoiding common problems.
Fee: $50
Thursday, October 12; 7:00 to 9:30pm
Chilton Medical Center, 97 West Parkway, Pompton Plains, NJ
For more information and to register, please call 973-831-5333 or sign up online >
Childbirth Preparation
Expectant mothers and their partners can learn about the stages of childbirth, the role of the partner, coping and breathing techniques, and the postpartum period. A tour of our Mother Baby Center is included. This class should be completed approximately four weeks before the baby's due date.
• One-Day Intensive Class
Saturdays, October 14 and November 11; 9:00am to 4:00pm
Fee: $200 per couple
• Three-Week Session
Wednesdays, October 11, 18 and 25; 7:00 to 9:30pm
Fee: $160 per couple
For more information and to register, please call 973-831-5333 or sign up online >
Sibling Preparation
This class helps ease older brothers and sisters into this new phase of their lives.
Fee: $40 for first sibling; $25 for each additional sibling
Saturday, October 21; 9:30 to 11:00am
Chilton Medical Center, 97 West Parkway, Pompton Plains, NJ
For more information and to register, please call 973-831-5333 or sign up online >
Baby Basics
Expectant mothers and their partners can learn how to bathe, diaper and burp a baby, as well as how to care for the cord. Tips from the "Happiest Baby on the Block" on soothing fussy infants and helping them sleep longer will also be provided. Grandparents may attend for an additional cost.
Fee: $60
Thursday, October 26; 7:00 to 9:30pm
Chilton Medical Center, 97 West Parkway, Pompton Plains, NJ
For more information and to register, please call 973-831-5333 or sign up online >

Ceremony of Remembrance
Join us as we remember all of the precious babies who left us too soon. Refreshments will be served.
Sunday, October 8; 2:00 to 4:00pm
Chilton Medical Center, Board Room, 97 West Parkway, Pompton Plains, NJ
For more information, call 973-831-5333 or register online >

Breastfeeding Support Group
Join other moms in an informal and welcoming group that supports breastfeeding mothers and their children. Lactation consultations will also be on hand to answer questions.
Mondays, 11:00am to Noon
Chilton Medical Center, 97 West Parkway, Pompton Plains, NJ
For more information and to register, please call 973-831-5333 or sign up online >

Parenting Articles