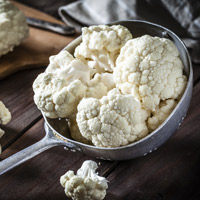 When you consider that one cup of rice has nine times more carbohydrates than a single cup of cauliflower, you'll wonder why you haven't made this vegetable part of your regular diet already. In addition to being a great substitute for grains, cauliflower is also high in fiber and relatively easy to prepare in a variety of dishes.
See how chefs at Atlantic Health System use riced cauliflower to create vegetarian stir fries >
Weight Management Programs and Screenings
Education and prevention can keep you and your loved ones healthy. We invite you to take advantage of the programs, support groups and screenings available. Adults 65 and older who are looking to stay well with age may benefit from events labeled "New Vitality."
Walk with a Doc
A Chilton Medical Center or Atlantic Medical Group physician will provide a short presentation on a health topic and then lead a group walk through the mall.
Third Wednesday of the month; 9:00 to 10:00am
Willowbrook Mall, Wayne, NJ (meet in the food court)
For more information, please call 973-831-5475.
Weight Management Articles