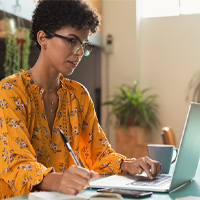 At Atlantic Health System, we understand that women don't always find the time to put their own health first. That's why we're is making it more convenient to schedule a screening mammogram – the single most effective way to detect breast cancer in early, more curable stages.

Women ages 40 and older who qualify can book their next appointment online without a prescription at all of our breast centers. Schedule a screening mammogram now >


Breast Cancer Programs and Screenings
Education and prevention can keep you and your loved ones healthy. We invite you to take advantage of the programs, support groups and screenings available. Adults 65 and older who are looking to stay well with age may benefit from events labeled "New Vitality."

Queen's Tea
Enjoy high tea favorites in support of the Breast Center at Chilton Medical Center. The menu will include tea, scones, lemon curd, clotted cream and assorted savories.
Fee: $40
Thursdays, October 3 and 10; Noon and 6:00pm
High SocieTea House, 20 Old Newark Pompton Turnpike, Wayne
Sponsor: Chilton Medical Center Auxiliary
For more information or to reserve seating, call 973-831-5345.

Hatha Yoga for Cancer Survivors
Reduce stress, strengthen your body, boost your immune system and minimize physical discomfort during cancer treatment with hatha yoga.
Saturdays, October 5 to November 23
Chilton Medical Center, Collins Pavilion
Sponsor: Chilton Medical Center Foundation
For more information and to register, please call 973-831-5311.

Cancer Support Group for Men and Women
Men and women who are newly diagnosed with cancer, in treatment or up to two years post treatment can learn more about their condition, while sharing information and encouragement with others.
Second Wednesday of every month, 1:30 to 3:00pm
Chilton Medical Center Collins Pavilion, 1st Floor Cancer Conference Room
97 West Parkway, Pompton Plains, NJ
For more information and to register, please call 973-831-5311.
Breast Cancer Articles