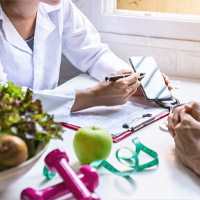 Workouts are often derailed by a lack of time or motivation. Atlantic Health System's fitness assessment can help you determine if your daily routine includes enough physical activity to support a healthy lifestyle. You'll also learn tips for beginning or maintaining a successful exercise program on a busy schedule. Take the fitness assessment >
Exercise and Fitness Programs and Screenings
Education and prevention can keep you and your loved ones healthy. We invite you to take advantage of the programs, support groups and screenings available. Adults 65 and older who are looking to stay well with age may benefit from events labeled "New Vitality."
Mall Walker Program
Experience a fun way to exercise indoors at the Willowbrook Mall in Wayne, NJ. Registration and a membership badge are required to participate.
Monday through Saturday, 7:00 to 10:00am
Sunday, 9:00 to 11:00am
1400 Willowbrook Mall, Wayne, NJ
For more information and to register, please call 973-831-5367.

Walk with a Doc
A Chilton Medical Center physician will provide a short presentation on a health topic and then lead a group walk through the mall.
Third Wednesday of the month; 9:00am
Willowbrook Mall, Wayne, NJ (meet in the food court)
For more information or to register, call 973-831-5475.
Exercise and Fitness Articles