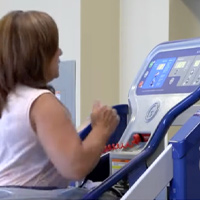 Our legs are designed to support pain-free movement, but after an injury or surgery, the weight of our own bodies can hamper the recovery process. The AlterG Anti-Gravity Treadmill®, available at several Atlantic Rehabilitation locations, can help you regain your mobility faster with minimal discomfort. It uses N.A.S.A. differential air pressure technology, which simulates a reduced gravity environment, so you can walk or run without putting extra strain on your joints and muscles. Watch a video to learn more >
Exercise and Fitness Programs and Screenings
Education and prevention can keep you and your loved ones healthy. We invite you to take advantage of the programs, support groups and screenings available. Adults 65 and older who are looking to stay well with age may benefit from events labeled "New Vitality."
Mall Walker Program
Experience a fun way to exercise indoors at the Willowbrook Mall in Wayne, NJ. Registration and a membership badge are required to participate.
Monday through Saturday, 7:00 to 10:00am
Sunday, 9:00 to 11:00am
1400 Willowbrook Mall, Wayne, NJ
For more information and to register, please call 973-831-5367.

Exercise and Fitness Articles