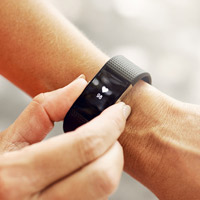 You can have the latest and greatest wearable fitness gadget, but all that technology won't necessarily entice you to go the extra mile. In a recent study, Atlantic Sports Health found that the information collected by activity trackers, such as number of steps taken, was a more powerful motivator than the device itself. These findings were consistent with research from the University of California, San Diego, which showed that people who could access their performance indicators in real time were more active than those would could not.
Read more >


Exercise and Fitness Programs and Screenings
Education and prevention can keep you and your loved ones healthy. We invite you to take advantage of the programs, support groups and screenings available. Adults 65 and older who are looking to stay well with age may benefit from events labeled "New Vitality."

Walk with a Doc
A Chilton Medical Center or Atlantic Medical Group physician will provide a short presentation on a health topic and then lead a group walk through the mall.
Third Wednesday of the month; 9:00 to 10:00am
Willowbrook Mall, Wayne, NJ (meet in the food court)
For more information, please call 973-831-5475.

Mall Walker Program
Experience a fun way to exercise indoors at the Willowbrook Mall in Wayne, NJ. Registration and a membership badge are required to participate.
Monday through Saturday, 7:00 to 10:00am
Sunday, 9:00 to 11:00am
1400 Willowbrook Mall, Wayne, NJ
For more information and to register, please call 973-831-5367.
Exercise and Fitness Articles