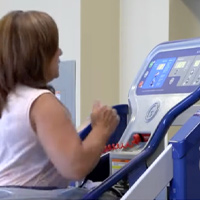 Our legs are designed to support pain-free movement, but after an injury or surgery, the weight of our own bodies can hamper the recovery process. The AlterG Anti-Gravity Treadmill®, available at several Atlantic Rehabilitation locations, can help you regain your mobility faster with minimal discomfort. It uses N.A.S.A. differential air pressure technology, which simulates a reduced gravity environment, so you can walk or run without putting extra strain on your joints and muscles. Watch a video to learn more >
Orthopedics Programs and Screenings
Education and prevention can keep you and your loved ones healthy. We invite you to take advantage of the programs, support groups and screenings available. Adults 65 and older who are looking to stay well with age may benefit from events labeled "New Vitality."

New Vitality: Latest Trends in Outpatient Total Joint Replacement Surgery
Learn how doctors are performing total joint replacement surgeries like never before. Dinner and cocktails are included.
Wednesday, September 25; 5:30 to 7:30pm
The Grove, 691 Pompton Avenue, Cedar Grove, NJ
Presenter: Timothy James Henderson, MD
For more information and to register, call 973-317-7500, x 1740.

Arthritis Support Group
Arthritis patients can receive mutual education and encouragement.
Fourth Tuesday of every month; 10:30 to 11:30am
This group meets from March through December.
242 West Parkway, Pompton Plains, NJ
For more information, please call 973-831-5367.
Orthopedics Articles