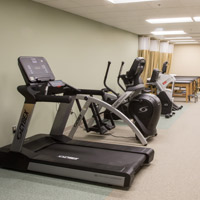 Atlantic Rehabilitation continues to give you convenient options for recovery after an injury or surgery, so you can get back to your daily routine faster. We recently opened a location at 333 Route 46 West in Mountain Lakes, New Jersey. Physical therapy will be available there on Mondays, Wednesdays and Fridays from 10:00am to 6:00pm. For more information, call 973-939-6221.
Orthopedics Programs and Screenings
Education and prevention can keep you and your loved ones healthy. We invite you to take advantage of the programs, support groups and screenings available. Adults 65 and older who are looking to stay well with age may benefit from events labeled "New Vitality."

Arthritis Support Group
Arthritis patients can receive mutual education and encouragement.
Fourth Tuesday of every month; 10:30 to 11:30am
This group meets from March through December.
242 West Parkway, Pompton Plains, NJ
For more information, please call 973-831-5367.
Orthopedics Articles