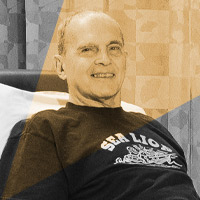 75-year old Phil Glorioso still follows his passion for SCUBA diving. "Working on a diving boat requires heavy-duty chores," Phil explains. "Pulling anchor chains and coming up the dive ladder with 132 pounds of dive gear." When Phil strained a muscle doing a home repair, he knew diving with an injury wasn't an option. He had to get help. Having been successfully treated for muscle injuries and arthritis before, he knew exactly where to go – Chilton Medical Center. Read more of his story >
Orthopedics Programs and Screenings
Education and prevention can keep you and your loved ones healthy. We invite you to take advantage of the programs, support groups and screenings available. Adults 65 and older who are looking to stay well with age may benefit from events labeled "New Vitality."

Arthritis Support Group
Arthritis patients can receive mutual education and encouragement.
Fourth Tuesday of every month; 10:30 to 11:30am
This group meets from March through December.
242 West Parkway, Pompton Plains, NJ
For more information, please call 973-831-5367.
Orthopedics Articles